4K Healing Rain & Thunderstorm + Crystal Bowl Music for Deep Relaxation — 1HR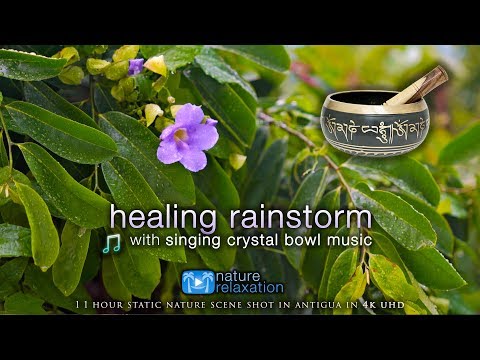 This 1 hour film shot in 4K UHD features a static scene of a purple flower dancing in the rain, and is paired with a healing audio track that contains the sounds of rain, birds, a distant thunderstorm, and subtle singing crystal bowl music which adds an extra layer of healing. The footage was captured on the Caribbean island of Antigua by David Huting. MORE INFORMATION:

Watch via Nature Relaxation On-Demand @: http://watch.naturerelaxation.com or download/DVD at http://www.NatureRelaxation.com. MORE INFO/ LINK:

ABOUT THE MUSIC: «Crystal Rain» is a musical work of extraordinary peacefulness and purity. It's hard to imagine a more serene combination of sounds – gentle rain combined with the hauntingly beautiful tones of quartz crystal singing bowls. This spacious composition is the result of an intuitive performance that has resulted in music with powerful healing properties. As a result, Crystal Rain makes a wonderful complement to any form of relaxation therapy, especially those that focus on energy cleansing. This music contains both binaural beats and isochronic tones. » excerpt from Enlightened Audio. Full album ©Christopher Lloyd Clarke is at https://enlightenedaudio.com/crystal-…

ABOUT THE VIDEO: Captured on the Sony A7RII in Antigua, Caribbean.
GD Star Rating
a WordPress rating system
Пометить материал как неуместный
Оценка информации

GD Star Rating
a WordPress rating system